1inch Monthly Digest: August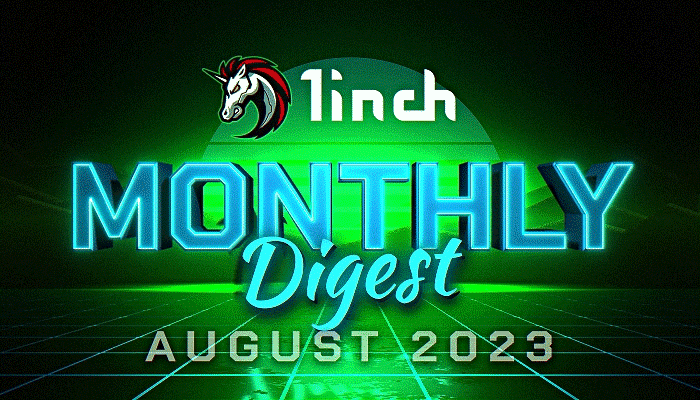 The 1inch Network is happy to present you the August digest of major news and updates.
Updates, news and integrations
Despite the summer holiday period, in August, the 1inch team continued to work hard on expanding and improving 1inch products and services.
As the recently launched 1inch Developer Portal is gaining steam, three more API were added, offering software builders access to a wider range of cutting-edge Web3 tools.
The 1inch Traces API facilitates fast and efficient extraction of traces and events - extensive logs of smart contract transaction data on EVM-compatible blockchains. The 1inch Gas Price API provides users with the most accurate gas cost estimates, based on up-to-date data on Ethereum gas price. The 1inch NFT API extracts data on all NFTs held in a specific blockchain address.
Meanwhile, as 1inch continues its expansion across the DeFi space, the 1inch Aggregation Protocol and the 1inch Limit Order Protocol were deployed on Base, a Layer-2 Ethereum scaling solution incubated by major crypto exchange Coinbase. The expansion to Base offered 1inch users access to yet deeper liquidity, as well as lower transaction costs and higher speeds.
Also in August, 1inch integrated with Kaikas, a non-custodial digital wallet from Klaytn, South Korea's leading Web3 ecosystem. Under this partnership, the 1inch Swap API now powers Kaikas token swaps.
In addition, the 1inch Wallet for iOS received a massive update in version 2.1.3, while 1inch teamed up with CyberConnect to allocate 10,000 whitelist spots for CyberTrek with $1.8 mln in rewards.
Finally, August saw several notable integrations with projects including Retro, RAMSES, Pendle, Ground X and LEVEL Finance.
Events
On August 15, 1inch backend team lead Nick Kozlov did a workshop on the 1inch Developer Portal at ETHMunich.
Two days later, a builder meetup featuring representatives from 1inch and other major DeFi projects was held in Buenos Aires.
Key stats
Ethereum: $286.3B in volume, 12.6M swaps, 2.2M users
BNB Chain: $35.2M in volume, 18.4M swaps, 3.8M users
Polygon: $20.5B in volume, 16.4M swaps, 2.2M users
Optimism: $3.6B in volume, 1.5M swaps, 382.8K users
Avalanche: $4.8B in volume, 1.7M swaps, 431.2K users
Fantom: $1.1B in volume, 1.1M swaps, 108K users
Arbitrum: $9.4B in volume, 4.4M swaps, 859K users
Gnosis:  $289.3M in volume, 1.7M swaps, 52.6K users
1inch Fusion mode: $10.6B in volume, 1.4M swaps, 432K users
Stay tuned for more exciting news and announcements from the 1inch Network!
Copy done!