1inch Monthly Digest: November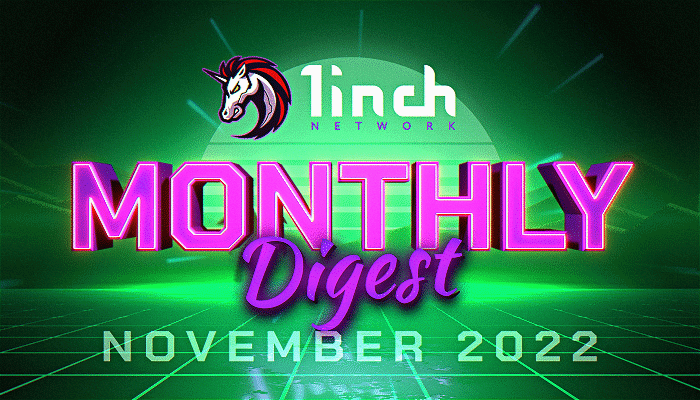 The 1inch Network is happy to present you the November digest of major news and updates.
Updates, news and integrations
One of the recent months' most important releases was the 1inch RabbitHole, an innovative feature that protects MetaMask users swapping on 1inch from sandwich attacks — the most common type of front-running. With this feature, transactions are sent directly to validators, rather than to the mempool where they could be attacked by sandwich bots.
In a move to further improve user experience and capital efficiency, the 1inch Aggregation Router v5 was released, offering users at least 10% lower gas costs for swaps than any other project in the DEX segment.
Staying on the topic of upgrades, the new version of the 1inch Wallet for Android enables users to get the best swap rates when buying crypto for fiat and to purchase NFTs directly in their wallets. Banxa, Sardine, Moonpay and Wyre were added to the existing fiat-to-crypto on-ramp providers Transak and Mercuryo.
Meanwhile, the 1inch Wallet for iOS returned to the AppStore with a new update.
The past month also saw a few notable integrations involving 1inch. 1inch partnered with Revolut, launching a joint L&E course. Also, 1inch was integrated into XDEFI Wallet and XDEFI WebApp, as well as into Synthetix Atomic Swaps.
In November, the 1inch Network continued to run DeFi Visions, a series of video interviews with DeFi's most prominent personalities and projects. The most recent installments featured Andrey Belyakov, founder of Opium Protocol, and Lukas Schor, co-founder of Safe. The main takeaways from DeFi Visions interviews are also available on this blog.
Events
1inch continues to attend major crypto events all over the world. In early November, 1inch's team descended on Lisbon. We co-hosted the OFR 2022 conference and participated in WebSummit and ETH Lisbon Hackathon.
At WebSummit, 1inch co-founder Anton Bukov gave the exclusive masterclass 'The Art of Aggregation.' A video of the masterclass is available here.
In late November, 1inch co-founder Sergej Kunz brightened the stage at ETH Vietnam with a presentation of the 1inch RabbitHole and participated in the panel 'Scaling DeFi toward mass adoption.' ETHVietnam also featured 1inch's party 'DEXchange your future.'
Key stats
Ethereum: $228.8 bln in volume, 8.2 mln swaps, 1.6 mln users
BNB Chain: $19.9 bln in volume, 6.7 mln swaps, 1.1 mln users
Polygon: $16.1 bln in volume, 10.6 mln swaps, 1.2 mln users
Optimism: $1.3 bln in volume, 352.4k swaps, 88k users
Avalanche: $660.5 mln in volume, 181.7k swaps, 14.4k users
Fantom: $253.9 mln in volume, 560k swaps, 6.8k users
Stay tuned for more exciting news and announcements from the 1inch Network!
Copy done!
Recent posts
Copy done!