The 1inch Wallet for Android boosts its power with the latest updates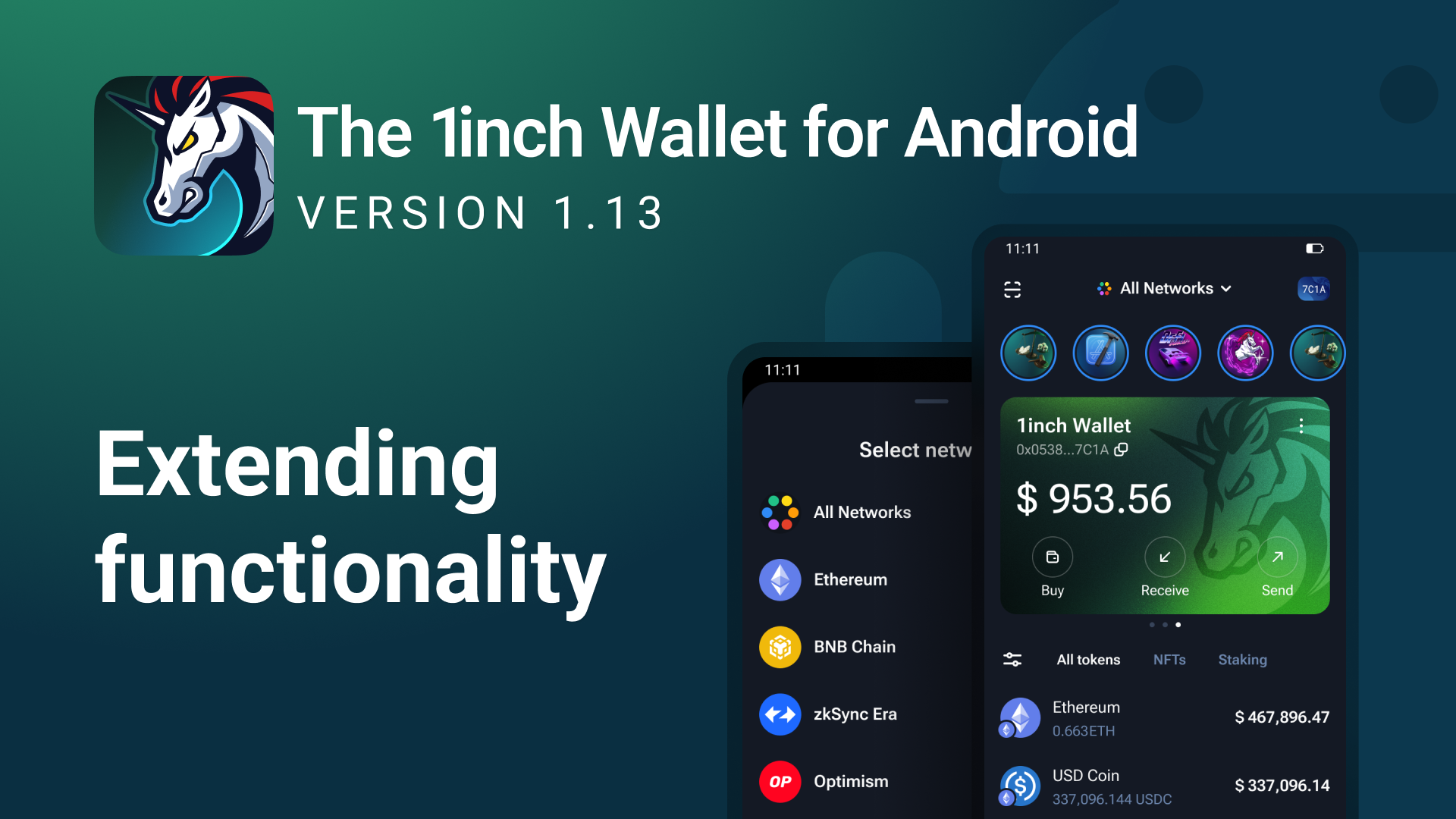 The new version of the 1inch Wallet for Android features essential updates that turn it into an essential app for seamless crypto interaction and Web3 experience.  
As the 1inch Network is committed to constantly improving user experience, the 1inch Wallet for Android continues releasing updates that make token management, swapping and privacy protection even more efficient.
Enhanced token and wallet management
All networks
A brand new interface feature enables users to simultaneously see balances across all blockchains and easily select tokens and wallets they wish to interact with.
Wallet and token picker
This feature aims to make interaction with crypto assets more straightforward while allowing for faster selection of the desired token or wallet.
The wallet's functionality has also improved with previous updates due to adding support for zkSync Era, Ledger and HD wallets and implementing improved transaction management.
More swap versatility and better privacy
zkSync Era support
1inch's expansion to zkSync Era enabled Android users to benefit from this promising Ethereum L2 scaling solution. zkSync allows for lower gas transactions without delays on Ethereum while maintaining high-security standards. Based on ZK-Rollup tech, zkSync Era relies on compressing transaction data off-chain and submitting it as one transaction on-chain. ZK-Rollups offer faster transactions by utilizing on-chain validity proofs for transaction verification, which saves time, unlike waiting to obtain fraud proofs used by other rollups.
HD wallets
HD wallet support improves transacting experience, as well as privacy and record-keeping. Users can create as many HD wallet derivation paths as they want, meaning they can take advantage of generating new public addresses and select any of them when performing a transaction.
Ledger
Ledger support facilitates interaction with the top hardware wallet to securely store crypto assets offline. As the cold wallet does not allow for funds' transfer, it can be connected to the 1inch Wallet in order to access and manage crypto assets in a user's Ledger.
WalletConnect v2
WalletConnect, recently updated to the newest version, ensures seamless access to Web3 and more flexible connection to various dApps by scanning a QR code.

Advanced settings for experienced traders

Custom nonce and hex data
Customizing nonce values allows for solving pending and stuck transactions that haven't been broadcasted to the blockchain. Now users can cancel or speed them up by sending a brand new transaction using the same nonce as the pending one.

The custom hex data functionality facilitates sending Ethereum transactions with attached messages. Users can input the desired text for a transaction into the Hex data field, keeping in mind that adding extra characters will result in higher gas costs.
Advanced gas management
By setting the gas limit, a user can control the maximum amount of gas they are willing to spend to complete a transaction. The low gas fee function enables users to pay less as long as they are ready to wait until the gas price decreases.
Note that some advanced transaction adjustments can affect the execution of other transactions since they can potentially create a queue (like waiting for a low gas fee) or, for instance, speed up other transactions by canceling pending ones.
All these updates are accompanied by general improvements to the app performance and other rollouts, such as an increased amount of supported fiat currencies and more.
1inch is always striving to introduce more helpful and innovative features to the 1inch Wallet's users. Stay tuned for more exciting updates!
Copy done!