Revolut: "Grateful for the excellent cooperation with 1inch"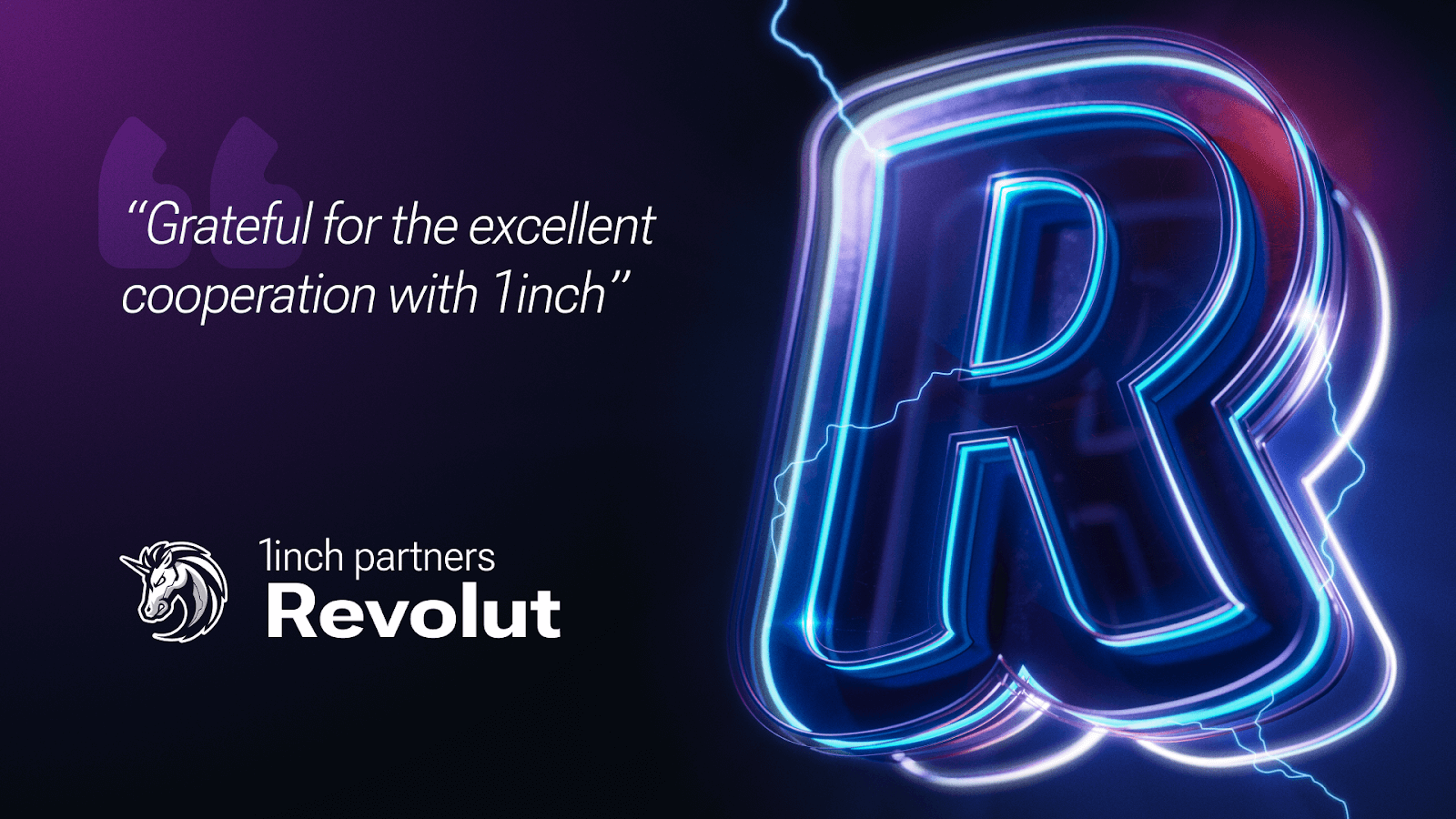 In this new series of posts, 1inch looks at partnerships it has struck with various projects and at how both sides have benefited from the collaboration.
In October 2022, the 1inch Network launched the crypto 'Learn & Earn' course in partnership with Revolut. The partnership with the leading customer-centric platform has turned out to be fruitful, successfully promoting DeFi knowledge among people across the globe.
Revolut, a global financial superapp, boasts over 27 million customers worldwide. Revolut constantly expands the list of cryptocurrencies it offers to customers, also making their crypto journey smooth and comfortable by running the educational resource 'Learn & Earn.'
Millions of customers have completed a 'Learn and Earn' lesson since the launch of the product in-app in July 2022.
The three-lesson course, jointly launched by 1inch and Revolut, reveals the basics of decentralized finance, enabling students to master key concepts of the DeFi space: how DEXes work, how the Pathfinder algorithm allows users to get the best swap rates and the way DAO governance is managed. The course enables users to immediately put their knowledge to practice in an engaging and entertaining way.
The motivating part of the course, 'Earn,' offers rewards for those who complete all the lessons. Rewards are provided in 1INCH tokens that are added to Revolut users' crypto balance and displayed in the Revolut app. As a result, by taking the course, users, in addition to earning some coins, obtain a convenient tool for their next steps in the DeFi space.
"Revolut Learn & Earn is one of the most popular products in our app, with great scalability," says Emil Urmanshin, Crypto General Manager at Revolut. We are thrilled to see how millions of users discovered the principles and fundamental concepts in the crypto world thanks to our product."
"Partnerships with high-profile companies in the Web3 space, such as 1inch Network, completed our educational resource with more consistency and diversity," he adds. "We are grateful for the excellent cooperation with 1inch and we are looking forward to expanding our common projects, to the benefit of the crypto enthusiasts."
Stay tuned to learn more about 1inch partners!
Copy done!
Recent posts
Copy done!