March benefits for 1INCH stakers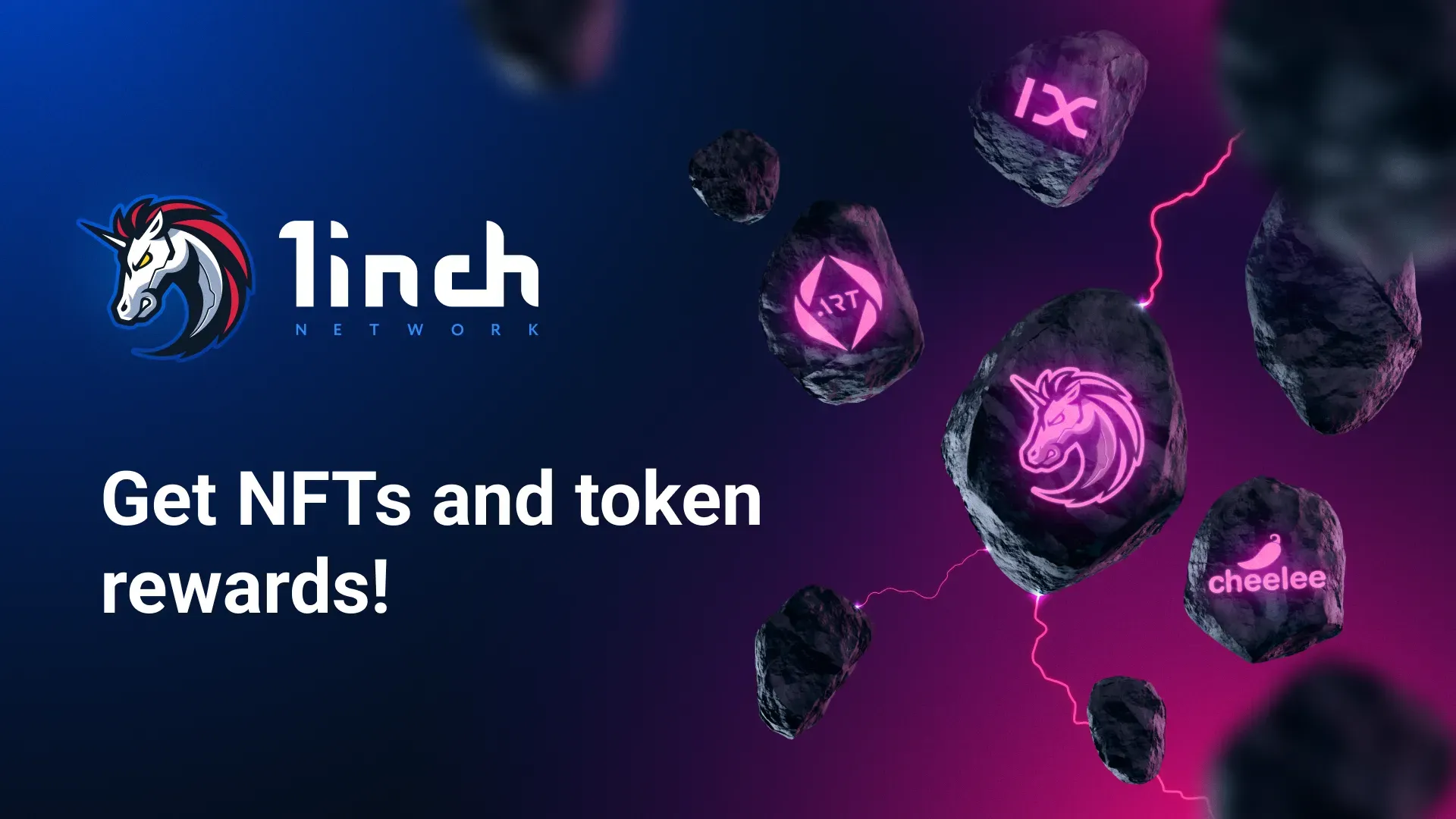 In March, users who stake 1INCH tokens and delegate Unicorn Power to resolvers, can participate in Web3 quests and games and get notable rewards from 1inch, Cheelee, Planet IX and Protocol.art.
The 1inch Network is thrilled to announce a series of benefits for 1INCH token stakers, who will be able to claim rewards from 1inch, Protocol.art, Cheelee and Planet IX. Throughout March, those who have staked at least 100 1INCH tokens and delegated the received Unicorn Power to resolvers for a minimum period of two years will get unique domains and a chance to participate in quests and games with rare NFTs, POAPs and a batch of tokens to win!
The 1inch mascot, a cyber unicorn, will join everyone who takes the most out of 1inch in March.
Step 1. Join the 1inch&Cheelee Treasure Hunt quest and win rare NFTs and token rewards. In this game, users, alongside 1inch Unicorn and Cheelee Pepper, will experience a fascinating journey, following clues and completing riddles to make the crypto-winter melt away. Players who successfully help 1inch Unicorn and Cheelee Pepper finish their mission, will be rewarded with a POAP or a batch of 1INCH and CHEEL tokens. One of the other main prizes will be NFT glasses, which allow for earning more on GameFi's short video platform Cheelee, using watch-and-earn mechanics.
The quest will run from March 6 to 10. A link to start the game will be available during this period in the 1inch Wallet's "1inch <> Cheelee" story. The first step will be to complete an onboarding quiz which might require some basic knowledge of 1inch products.
Users who have staked the required amount of INCH tokens and delegated Unicorn Power to resolvers can submit their wallet addresses and skip the questions.
Step 2. Participate in a 1inch quest on Galxe and win a Unicorn Horn NFT. This time, Cyber Unicorn will accompany you as you travel across different objectives and complete tasks centered around Web3. Players who successfully complete the quest will receive different NFT rewards based on their level of achievement. The Grand Reward is the Unicorn Horn NFT. The quest starts on March 14 and will last until April 14. All instructions will be available in the 1inch Wallet's "1inch <> Galxe" story.
Step 3. Enjoy the Planet IX Gameplay with an exclusive NFT starter pack. After fighting the crypto winter and receiving a Unicorn Horn, there will be one last chance to save the planet in an NFT-centered strategy game with play-to-earn mechanics. By collecting and trading virtual pieces of land (PIXes), players will restore the Earth to form Territories, which can eventually help to earn the Planet IX platform tokens — IXT tokens.
From March 24 to March 31, keep a lookout for the "1inch <> Planet IX story" with instructions in your 1inch Wallet. Connect and perform all necessary steps to get whitelisted for the NFT pack using only your 1inch Wallet. Once the whitelisting process is over, you will be able to claim the NFT pack reward on Planetix.com by connecting your 1inch Wallet.
Step 4. Claim your free .art domain and turn it into a Web3 identity for your wallet. Protocol.art, a community of art enthusiasts, allows users to mint easy-spell and creative names in the form of unique art NFTs. Users can obtain both standard and premium domains, which can be shorter, more memorable, artistic or valuable in some other way. The type of a free domain will be based on the lock period and the number of staked 1INCH tokens.
On March 31, Protocol.art will take a snapshot of all wallets that have staked 1INCH tokens and delegated Unicorn Power. These wallet holders will be eligible to claim their domains from April 1.
Note that 1INCH stakers can also get higher benefits from activities available to all users. Staking and delegating the received Unicorn Power to resolvers offers regular rewards accruing every second after delegation. Here you can learn how to stake 1INCH tokens and delegate Unicorn Power. Subsequently, you'll be able to apply your knowledge in the following staking quest.
Staking quest. The 'Stake and Delegate with 1inch' quest on Layer3 offers you another staking opportunity. Once you complete the quest, you'll be able to receive rewards from resolvers, as well as to enjoy all March benefits for stakers. Plus, you will get 1,500 XP — experience points. XP impacts users' level on Layer3 — a platform offering interactive experiences helping to discover Web3 in a fun and engaging way. Received XP will unlock access to some exclusive quests, giveaways and rewards provided by the platform.
You can participate in all Web3 adventures by connecting your 1inch Wallet. Keep a lookout for new stories in your app not to miss new rewards and activities.
Take advantage of the offered benefits and stake/delegate using the dApp or the 1inch Wallet over the coming weeks!
Copy done!
Recent posts
Copy done!