Kriptomat uses 1inch to provide easy access to Web3 gaming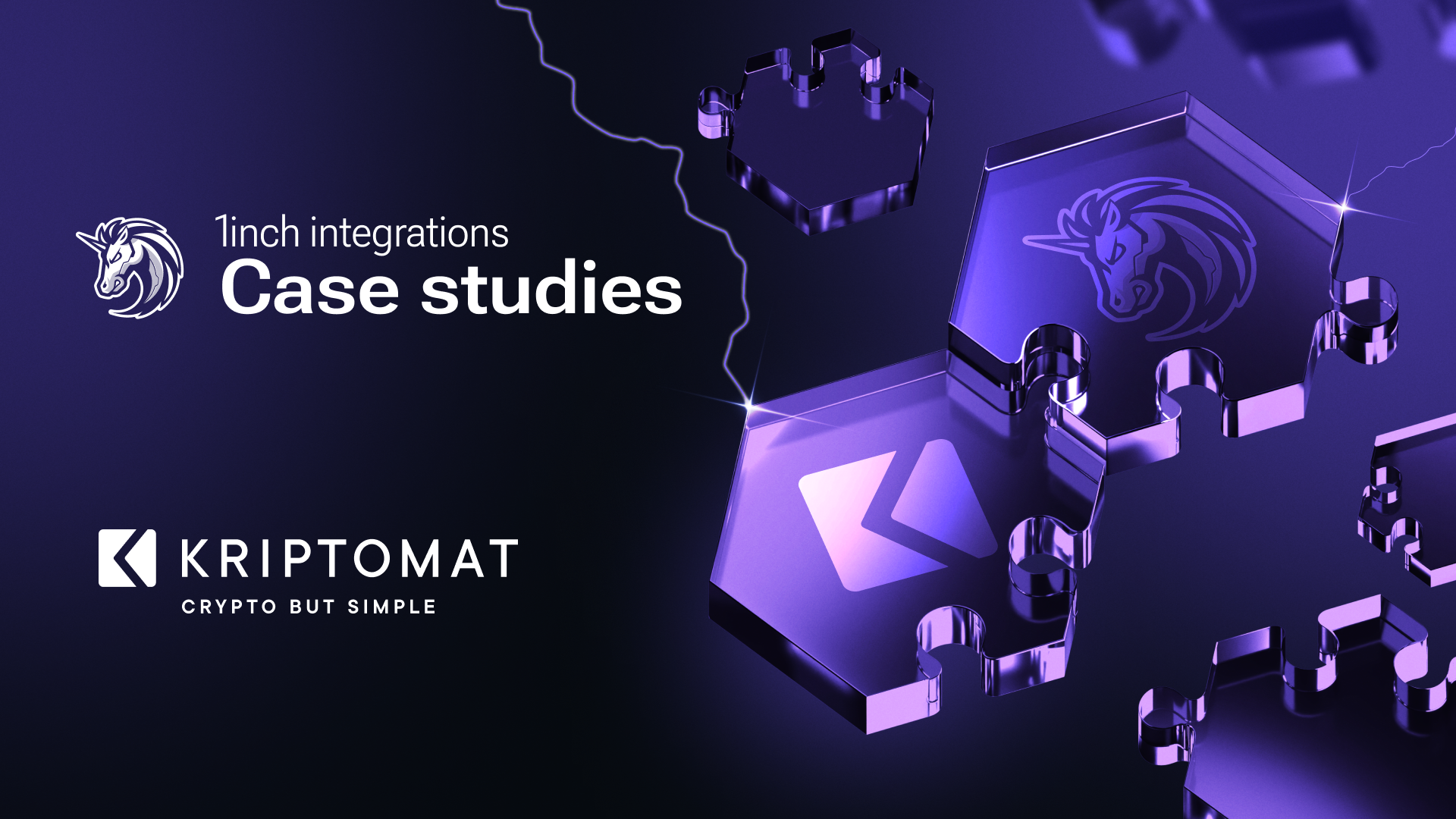 Thanks to 1inch's tech, users are immediately connected to the world of Web3 gaming.
Kriptomat, an established licensed crypto platform with over 400,000 users across Europe, recently launched the Kriptomat GameFi Web3 Wallet. Targeting the $120 bn mobile gaming market, this simple and fast Web3 wallet, which provides non-crypto native users with access to Web3 games, employs the 1inch Aggregation API for enabling users to immediately buy game tokens with fiat.
The swap process takes place "under the hood," sparing users with no or little crypto knowledge, time and effort needed to deal with crypto wallets and DEXes. This is how it works.
A user chooses to top up their wallet with, for instance, TokenX.
Kriptomat collects a fiat payment from the user.
Kriptomat spends the fiat collected from the user to buy a chain's native token, for instance, MATIC - the native tokens of Polygon.
Kriptomat sends the MATIC tokens over to the user's wallet.
Once received, Kriptomat initiates a swap of MATIC to TokenX, using the 1inch Aggregation API.
The user receives TokenX.
But the user doesn't even have to know about all these transactions, as all the "heavy lifting" is done in the background. They just make a fiat payment and receive TokenX, which they need for a Web3 game. And this is a much faster and user-friendlier way of obtaining game tokens than the standard process.
Currently, when a user wants to purchase a game token that is exclusively available on a decentralized exchange (DEX), they need to engage with multiple platforms. The process would typically involve the following steps:
Accessing a Web3 wallet.
Utilizing a platform to acquire MATIC tokens.
Swapping the acquired MATIC tokens for the desired token on a DEX.
In most cases, the purchased token may not be visible immediately since it needs to be manually added to the MetaMask wallet.
In summary, users looking to buy tokens exclusively on a DEX currently need to navigate through various platforms, including a Web3 wallet, a centralized exchange, and a DEX for the token swap. Additionally, the purchased token often requires manual addition to the MetaMask wallet for visibility.
With the Kriptomat Web3 wallet, a user can purchase any token through the 1inch Aggregator API directly, with multiple payment options, including credit / debit cards, SEPA, Euro or crypto.
"Our goal with the Kriptomat Web3 Wallet is to create a seamless and user-friendly experience that removes the intimidating barriers often associated with Web3," says Srdjan Mahmutovic, founder of Kriptomat. "Thanks to technologies like the 1inch Aggregation API, this has helped us deliver another key milestone on our mission to make crypto accessible to everyone."
Kriptomat is a crypto exchange platform with a mission to make crypto accessible to everyone. With a commitment to simplicity, security, and compliance, Kriptomat aims to make crypto and Web3 easy to understand and use. The platform's "Crypto But Simple" approach simplifies the complexities of blockchain technology, ensuring that users can seamlessly buy, sell, and store cryptocurrencies.
The Kriptomat GameFi Web3 Wallet provides a quick and simple wallet solution for Web3 games, targeting an 800,000 strong audience of users who play Web3 games on a daily basis.
You can read more about Kriptomat here.
Stay tuned to learn about more use cases for 1inch APIs!
Copy done!