DeFi Visions: Fredrik Haga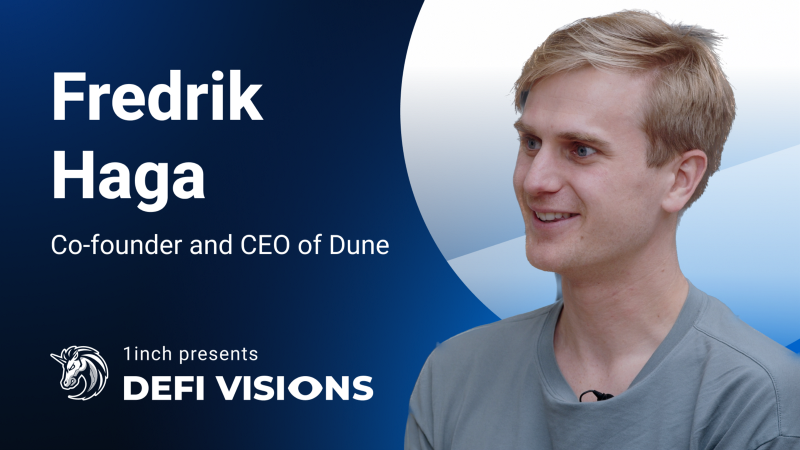 In DeFi Visions, a series of video interviews, the 1inch Network talks to the most prominent people in the DeFi space. This post contains the main takeaways from a recent interview with Fredrik Haga, co-founder and CEO of Dune.
Fredrik first got into crypto in 2015 when he heard about Bitcoin in a podcast, which instantly made him curious. "I directly fell down the rabbit hole," he recalls.
Meanwhile, Fredrik's journey into crypto space wasn't an easy one. "It was a tough time when we started in 2018. We had been running Dune for seven months without salaries, without any funding, and we were about to quit," he says. "But then, luckily, we got accepted into an accelerator, and we got a pre-seed investment."
"We realized it's very hard to get the data out of the blockchain," he goes on to say. But to know if the project succeeds, you must understand your users and data. One of the things that we have done right at Dune is to think deeply about the implications of open data."
Currently, Dune aims to provide crypto investors and analysts with dashboards driven by blockchain data to help them research different projects. Fredrik says he is now very proud of the Dune community: "Many of our creators learned a new skill set with us. We've built a way for them to contribute to the whole industry without being developers."
"And another thing we do is make people analyze across systems, chains and layers that you might be deployed to," he adds. So that you can see which systems have more users or what's the relative trade size. And having an API on top of that is pretty powerful — that is what we are investing in lately."
According to Fredrik, you can sometimes see mind-blowing things in the crypto space, like a business angel who doesn't want to do the paperwork for their investment. "When we prepared investment agreements, our investor said, 'Oh, that looks too complicated, I'll just send you some money!"
Speaking of the current bear market, Fredrik says it is healthy to have "a forest fire as the startup and technology ecosystem gets better when it's tested."
"As it happened to us — hard times shaped Dune and made us stronger," he explains.
Fredrik compares creating a crypto regulation approach with building a railway system: "If, for instance, in Europe, every country would decide how the rails should look like, you would have to change the train whenever crossing the border. There is a risk that crypto regulation will come from local systems, where every jurisdiction wants it to look differently."
To avoid that risk, Fredrik suggests that regulators must learn the layer of the stack they are regulating as, otherwise, it will be a less innovative technology evolution.
Moving to the subject of mass adoption, Fredrik says there are still a lot of user experience challenges, like annoying custody or messy and risky bridging, and "it is still a close-to-the-metal experience."
Still, he says he believes such products as NFTs could play a special role in changing the situation. "DeFi has a limited number of users while NFTs have a broader audience. A product needs more fun. This is where mass adoption could occur," he elaborates.
"Even though the hype is gone and the volumes are down, NFT is a powerful thing. It's like a cultural, art and music capital," he goes on to say. "What is also undervalued is that you buy the connection with an artist, which is a cultural phenomenon."
By contrast, the metaverse, according to Fredrik, is "just a buzzword."
"To get more use cases, the price of production should go down. It is potentially interesting, but I doubt it will have an impact in the next few years," he concludes.
Watch the full interview with Fredrik Haga on 1inch's YouTube channel.
Copy done!