1inch's meetup at the WEF Annual Meeting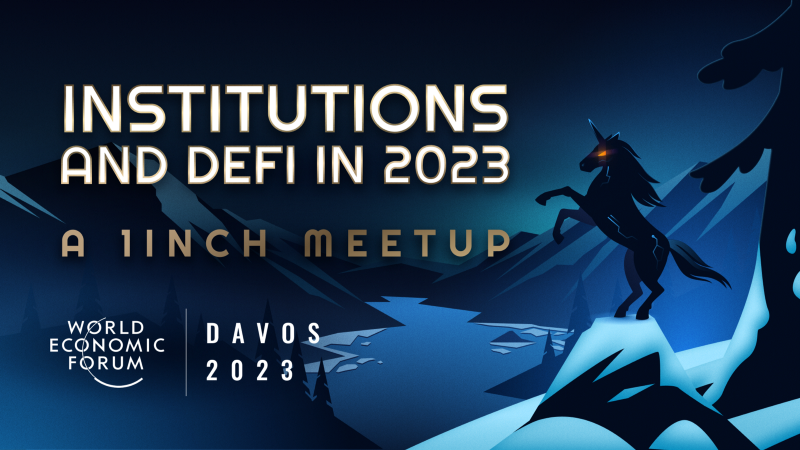 For the first time, the 1inch Network organized a full-fledged meetup at a major global economic event.
On January 17, the 1inch Network held a meetup, Institutions and DeFi in 2023, at the World Economic Forum Annual Meeting, attracting the most prominent personalities in DeFi, as well as those from outside the space.
The one-day meetup featured a keynote address from Sergej Kunz, 1inch co-founder, centered on how better user experience could attract mass users to DeFi, as well as the panel discussions On the 'Road to Irrelevance': Why is crypto still relevant for institutions, Is the crypto winter a good time to invest into crypto assets?, Regulating DeFi: How to reach a balance between protecting users and fostering innovation and DeFi Going Forward: 2023 crypto trends.
In addition, a partnership between 1inch and Burrito Wallet was announced at the meetup.
"Through a partnership between 1inch and Burrito Wallet, Korean users will be able to comply with Korean Travel Rules, navigate DEXes and DeFi platforms and find the most optimal prices," comments Andrew Chung, Chief Financial Officer and Head of Global Partnerships at Burrito Wallet.
Participants stressed the importance of the topics discussed at the meetup, noting that the DeFi space is likely to face a number of challenges in 2023, such as tightening regulations and a need to offer users convenient solutions for crypto self-custody.
"2023 will see an onslaught of regulation and the rise of CeDeFi with a greater focus on compliant innovation," says Aliya Das Gupta, SVP Business Development at Sygnum.
"[The collapse of ] FTX showed us that we need to take back ownership," adds Lukas Schor, co-founder of Safe. "For this, we need smarter self-custodial solutions that allow users to reduce their reliance on centralized custodians."
Meanwhile, many among the meetup participants were confident about the future of the DeFi space and its prospects for attracting institutions.
"Institutions would have to come to crypto one way or another," concludes Ivan De Lastours, Crypto Lead at BPI.
All the panels and Q&A sessions were filmed, and the videos are available here.
Stay tuned for more events hosted by the 1inch Network!
Copy done!
Recent posts
Copy done!