1inch to participate in UK events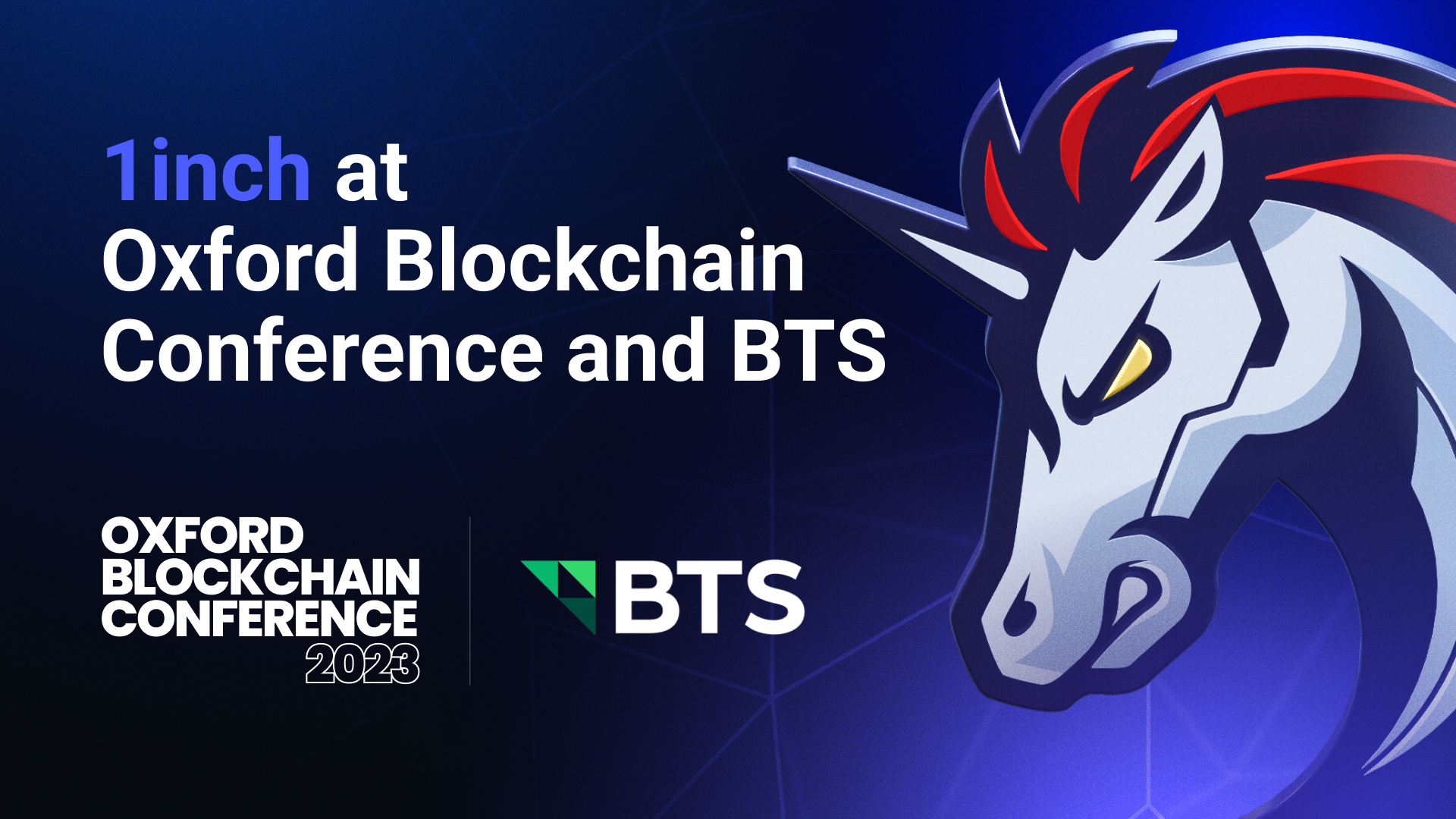 Over the next few days, 1inch is taking part in the Oxford Blockchain Conference and the Banking Transformation Summit in London.
On June 18, the Oxford Blockchain Society is hosting a conference aimed to discuss the convergence of financial markets and the world of blockchain, which is set to pave the way for major changes in trading and investment.
The Oxford Blockchain Conference's panel "The Intersection of Financial Markets and Blockchain" will feature Andri Rabetanety, Chief Operations Officer of the 1inch Network, alongside several other distinguished speakers, including Quynh Ho, Vice President of M&A and Investments at GSR; Anatoly Crachilov, CEO & Founding Partner at Nickel Digital Asset Management; Marcello Cavalcanti, General Partner at Tagus Capital and David Gan, Founder and General Partner of OP Crypto.
Staying in the United Kingdom, 1inch is sponsoring and attending the Banking Transformation Summit in London on June 22.
The event is expected to feature over 120 industry leaders discussing internal and external factors disrupting the banking sector. In a safe and relaxed atmosphere, BTS participants will delve into the most pressing topics for the global banking industry in keynote talks, fireside chats and themed panel sessions.
At the event, Andri will deliver a keynote address, "How can financial institutions benefit from DeFi?". In his talk, he will deep-dive into the topic of convergence and divergence between traditional finance (TradFi) and decentralized finance (DeFi), exploring opportunities and obstacles that lie ahead.
Meanwhile, Samuel Yim, CBDO at the 1inch Network, will take part in the panel "Web 3, Crypto & Blockchain: Is the Banking Industry Ready?" alongside Christopher Hinitt (PA Consulting), Eugenio Reggianini (European Blockchain Association) and Marjan Delatinne (SETL).
Finally, 1inch is hosting a party for BTS guests, "Banking in the DeFi jungles." It will offer the guests a chance of leaving behind the conventional banking landscape and immersing themselves in the lush ambiance of Coya Restaurant, transformed into a mesmerizing DeFi jungle.
Come enjoy DeFi-inspired cocktails, various gastronomic delights, jungle beats from a live DJ and endless networking opportunities. The party will kick off at 8pm.
Stay tuned for more news and updates from the 1inch Network!
Copy done!