1inch to attend the Future Blockchain Summit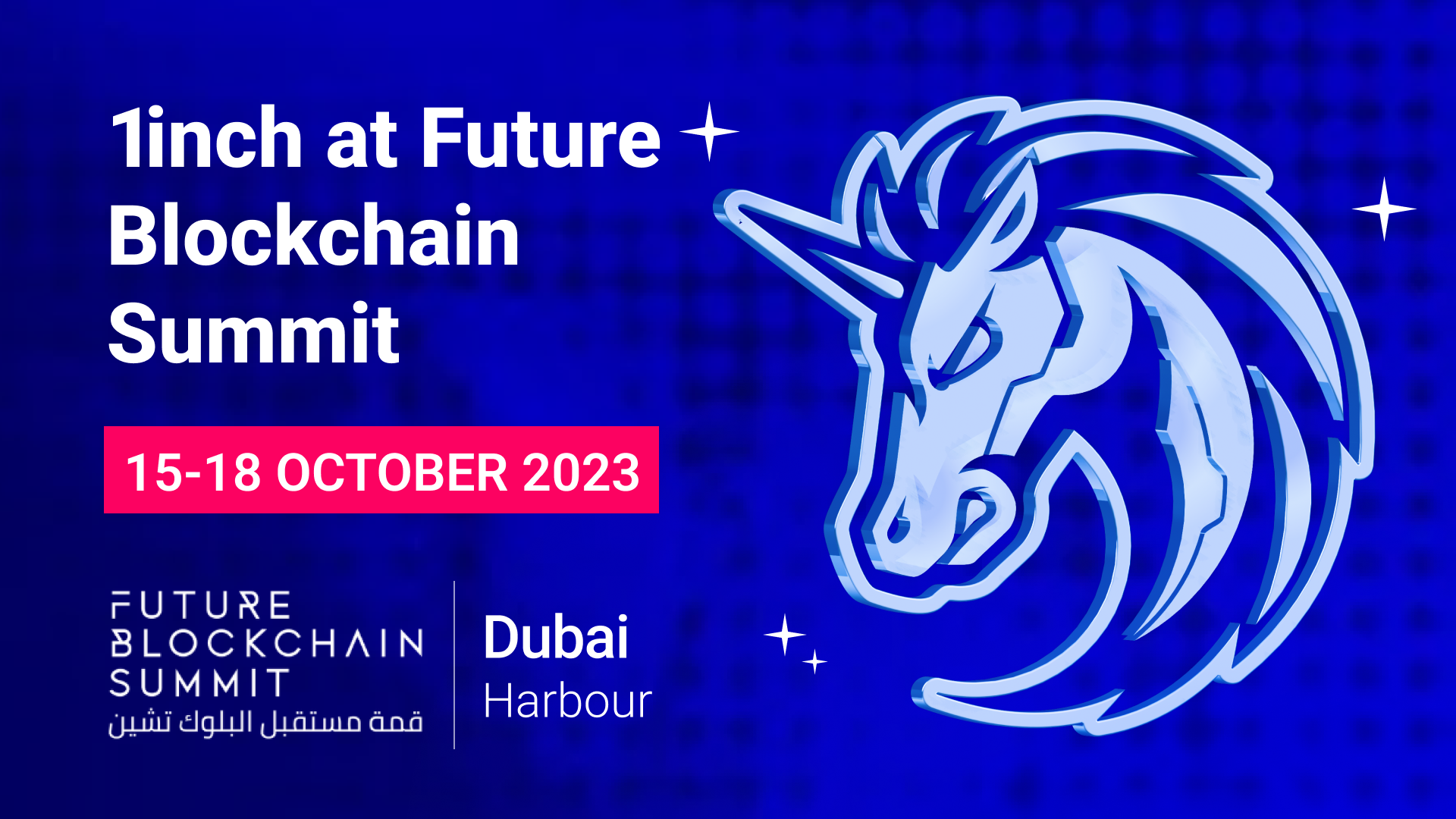 The 1inch Network is preparing to participate in the Future Blockchain Summit, a global gathering of innovators in Web3, blockchain, crypto, NFT, Metaverse and gaming.
On October 15-18, the Future Blockchain Summit, the MENA region's most immersive large-scale blockchain event, will be held in Dubai. The 1inch team is excited to take part in the event, revamped this year with a new concept aimed at emboldening disruptors, empowering change-makers and inspiring innovators.
Over four days of the Future Blockchain Summit, attendees will get numerous networking opportunities, as well as a chance to hear insights from industry leaders, pitch their projects in the Supernova Challenge and the Investors Program & Forum, check out various masterclasses and join the action in the Web3 Gaming Showdown.
This edition of the Future Blockchain Summit is going to be quite intense for the 1inch team. On October 16, Sergej Kunz, 1inch co-founder, will make a presentation, 1inch Fusion: a New Standard for Crypto Trading. Later the same day, he will join the panel Building on Bitcoin: The Next Narrative in Crypto. On October 17, Sergej will also take part in a side event, Arte Talks.
Also on October 16, Nikita Kozlov, 1inch's backend lead, will conduct the workshop Mastering dApp Development with the 1inch Developer Portal. The next day, he is scheduled to make a keynote address.
On October 17, Walid Benothman, 1inch's head of growth, will participate in a fireside chat with David Li.
On a lighter note, the Future Blockchain Summit's participants will have a chance to enjoy the Dubai edition of 1inch's iconic parties. This time round, it will be the event's official opening party, hosted in collaboration with Crypto Oasis and Internet Computer.
The party entitled ​"Boho Future - Where Innovation Meets Freedom" will kick off on October 16, at 8pm at Kyma Beach, Palm Jumeirah. It will feature mesmerizing fire dancers, a delectable selection of world-class cuisine and craft cocktails and, of course, opportunities to mingle with the blockchain community under the starlit Dubai sky.
Warning: surprises from 1inch, Internet Computer and Crypto Oasis are expected!
You'll need a valid QR code to access the event. Keep an eye on 1inch social media for free QR codes.
Enjoy the Future Blockchain Summit with the 1inch Network!
Copy done!
Recent posts
Copy done!