1inch Monthly Digest: June 2023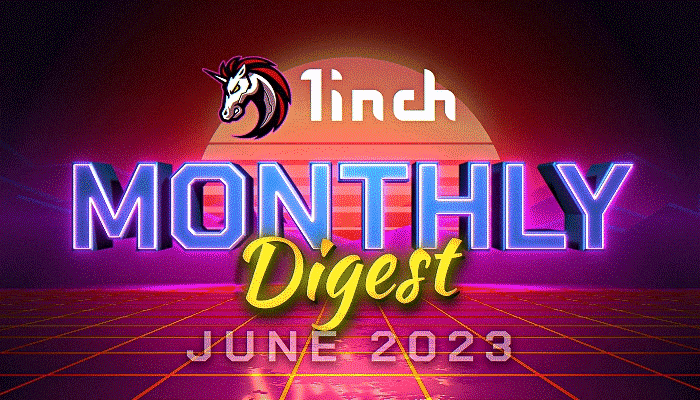 1inch Monthly Digest: June
The 1inch Network is happy to present you the June digest of major news and updates.
Updates, news and integrations
The 1inch Network continues to improve and upgrade its products, and, in June, the 1inch Wallet v1.14 for Android was released. The new version features several major improvements, including Fusion mode for five more chains, an NFT integration with Rarible and POAP, as well as improved UI and Ledger connection.
Also in June, the 1inch DAO adopted a proposal aimed at discontinuing the collection of swap surplus. The move is set to substantially improve the cost efficiency of swaps on 1inch and contribute to the ecosystem's long-term growth.
Meanwhile, the custom preset for Fusion mode orders was introduced, enabling users to choose between the 'Min', 'Max' and 'Auction time' parameters to maximize their profits.
June saw several integrations with promising projects, including XFai, an automated DeFi trading platform, and Arbitrum Exchange, a platform for trading and staking. Other notable integrations featured Algebra Protocol, Lido Finance, Origin DeFi, ARBIDEX, AmazeWallet, CIAN, MyEtherWallet and Enkrypt.
In addition, 1inch entered a partnership with animation artist Alex Semenov aka Lazy Square and was featured in his recent cartoon.
Events
In early June, 1inch attended the Money20/20 event in Amsterdam.
Sergej Kunz, 1inch co-founder, took part in the panel discussion "From Winter to Spring: Restoring Customer Confidence in Crypto." You can check out his insights into fostering crypto adoption in this video.
Another panel at Money20/20, "Does the Regulation Equation Equal Innovation," was moderated by Valeriya Minaeva from 1inch's business development team. To top off the event, 1inch hosted the Crystal Ball party.
Later in June, 1inch COO Andri Rabetanety spoke at the Oxford Blockchain Conference's panel "The Intersection of Financial Markets and Blockchain." He also delivered a keynote address, "How can financial institutions benefit from DeFi?," at the Banking Transformation Summit in London, while Samuel Yim, 1inch's CBDO, took part in the BTS' panel "Web 3, Crypto & Blockchain: Is the Banking Industry Ready?"
Key stats
Ethereum: $276.9B in volume, 11.5M swaps, 2.1M users
BNB Chain: $34.4M in volume, 17M swaps, 3.4M users
Polygon: $20B in volume, 14.4M swaps, 1.9M users
Optimism: $3.2B in volume, 1.2M swaps, 294.4K users
Avalanche: $4.5B in volume, 1.4M swaps, 338.6K users
Fantom: $981M in volume, 936.5K swaps, 84.1K users
Arbitrum: $8.2B in volume, 3.6M swaps, 698.2K users
Gnosis: $262.6M in volume, 892.2K swaps, 42.9K users
1inch Fusion mode: $8.7B in volume, 1.1M swaps, 321.4K users
Stay tuned for more exciting news and announcements from the 1inch Network!
Copy done!