1inch Monthly Digest: January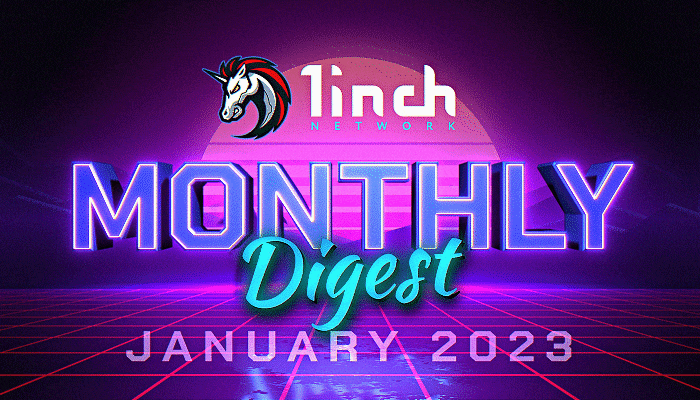 The 1inch Network is happy to present you the January digest of major news and updates.
Updates, news and integrations
The 1inch Foundation allocated 10 mln 1INCH tokens to the newly launched Delegation Incentive Program, which aims to incentivize the delegation of 1INCH stakers' Unicorn Power to Fusion mode resolvers.
Under the new staking model, users who stake their 1INCH tokens, receive Unicorn Power, which could be used in votes for major network decisions or delegated to one of the resolvers — in exchange for delegation rewards.
The new program stipulates that 250,000 1INCH tokens shall be distributed to 1inch resolvers once a week. The resolvers, in turn, will use these funds to reward stakers who delegated them their Unicorn Power.
Meanwhile, as 1inch is eager to expand its ecosystem of products and projects, it was glad to unveil The 1inch Hardware Wallet, a cutting-edge cold crypto storage solution, developed by an independent team within the 1inch Network. The wallet is expected to go on sale later this year, while its waiting list has already been opened.
January also saw a few notable integrations involving 1inch. A partnership with Beefy enables users to easily get into and out of Beefy vaults. Also, SwapFish, a decentralized exchange on Arbitrum and BNB Chain, was integrated into 1inch. In addition, thanks to an integration with CoinStats, users can now conveniently track assets on their 1inch Wallet.
In January, the 1inch Network continued to run DeFi Visions, a series of video interviews with DeFi's most prominent personalities and projects. The most recent installment featured Fredrik Haga, co-founder and CEO of Dune. The main takeaways from DeFi Visions interviews are also available on this blog.
Events
The main event for 1inch in January was the World Economic Forum Annual Meeting in Davos, Switzerland. At that event, 1inch hosted a meetup, Institutions and DeFi in 2023, which attracted many top-level personalities in the DeFi space.
The one-day meetup featured a keynote address from Sergej Kunz, 1inch co-founder, which was centered on how better user experience could attract mass users to DeFi.
The topics of panel discussions included:
On the 'Road to Irrelevance': Why is crypto still relevant for institutions?
Is the crypto winter a good time to invest into crypto assets?
Regulating DeFi: How to reach a balance between protecting users and fostering innovation?
DeFi Going Forward: 2023 crypto trends.
All the panels and Q&A sessions were filmed, and the videos are available here.
Key stats
Ethereum: $237.6 bln in volume, 8.8 mln swaps, 1.7 mln users
BNB Chain: $32.4 bln in volume, 14.1 mln swaps, 2.7 mln users
Polygon: $17.8 bln in volume, 11.3 mln swaps, 1.3 mln users
Optimism: $1.5 bln in volume, 681.2k swaps, 162.6k users
Avalanche: $3 bln in volume, 637.6k swaps, 104.9k users
Fantom: $675.4 mln in volume, 574.3k swaps, 16k users
Arbitrum: $190 mln in volume, 1 mln swaps, 213k users
1inch Fusion mode: $837 mln in volume, 86k swaps, 26k users
Stay tuned for more exciting news and announcements from the 1inch Network!
Copy done!
Recent posts
Copy done!