1inch Monthly Digest: December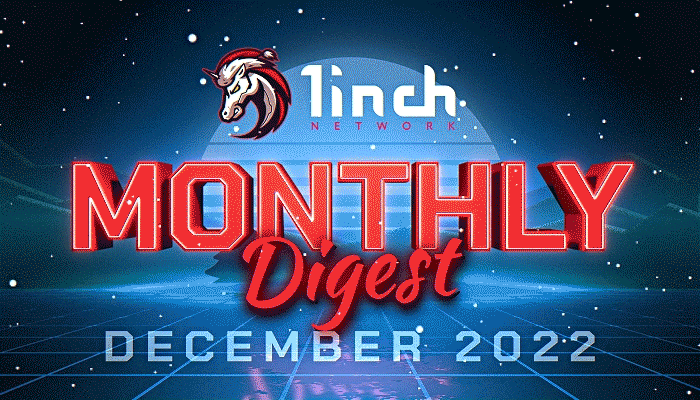 The 1inch Network is happy to present you the December digest of major news and updates.
Updates, news and integrations
In late December, 1inch released Fusion, a major upgrade centered around the 1inch Swap Engine — a unique combination of existing and new tech aiming to take the profitability and security of swaps to a new level.
The 1inch Swap Engine facilitates Fusion mode, which enables users to place orders with a specified price and time range, paying no network fees. In addition, the upgrade contains major improvements to security, as well as updated staking contracts and tokenomics.
Staying on the topic of new releases, earlier in December, version 3 of the 1inch Limit Order Protocol and the 1inch DeFi Wallet v1.8 for Android were released.
December also saw a few notable integrations involving 1inch. Soulbonds prepared progression traits for on-chain traders on 1inch. Meanwhile, 1inch integrated the Baby Doge router as a new liquidity source and also partnered up with Commonwealth to use its all-in-one governance platform.
In December, the 1inch Network continued to run DeFi Visions, a series of video interviews with DeFi's most prominent personalities and projects. The most recent installments featured Alex Shevchenko, CEO of Aurora, Kirill Arutyunov, CTO of NearPay, Ruslan Serebriakov, senior smart contract engineer at Trust Wallet, and Ivan Liljeqvist, founder and CEO of Moralis. The main takeaways from DeFi Visions interviews are also available on this blog.
Events
In late November and early December, several 1inch team members attended Philippine Blockchain Week. At that event, 1inch co-founder Sergej Kunz participated in a fireside chat with BitTorrent's Justin Sun and announced the 1inch RabbitHole.
Meanwhile, to make the Fusion release happen on time, dozens of 1inch contributors gathered in Dubai to work together in a hackathon-like environment.
Key stats
Ethereum: $230.7 bln in volume, 8.4 mln swaps, 1.7 mln users
BNB Chain: $32.1 bln in volume, 13.8 mln swaps, 2.7 mln users
Polygon: $17.4 bln in volume, 10.9 mln swaps, 1.3 mln users
Optimism: $1.4 bln in volume, 564.4k swaps, 134.8k users
Avalanche: $2.9 bln in volume, 550.3k swaps, 97k users
Fantom: $267.6 mln in volume, 538.5k swaps, 14.2k users
Happy New Year, and stay tuned for more exciting news and announcements from the 1inch Network!
Copy done!
Recent posts
Copy done!