1inch Monthly Digest: April 2023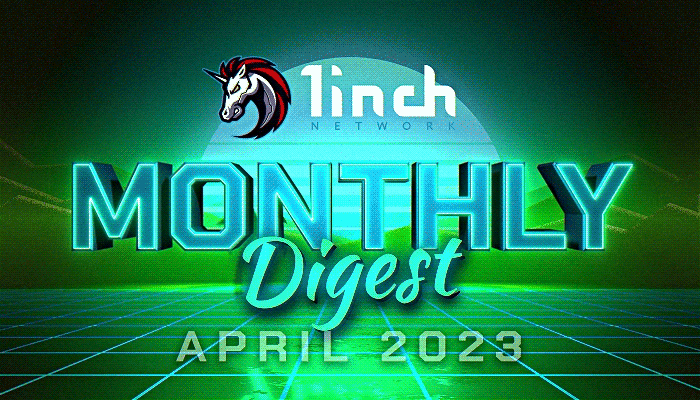 The 1inch Network is happy to present you the April digest of major news and updates.
Updates, news and integrations
In April, the 1inch Network continued expansion across the DeFi space,  adding zkSync Era, a recently launched, highly-anticipated L2 solution for scaling Ethereum blockchain, to the list of supported networks.
Thanks to the expansion to zkSync Era, 1inch users obtained access to yet deeper liquidity, while, in the longer run, as zkSync Era gains steam, they are expected to benefit from higher transaction speeds and lower fees.
Meanwhile, staying on the topic of expansion to more networks, 1inch's Fusion mode was made available on Arbitrum, Optimism and Avalanche. Now, users can enjoy highly lucrative and secure Fusion mode swaps on these three networks, as well.
As the 1inch Network is eager to make sure that users always get the best deals and are properly protected from MEV, 1inch joined the MEV Blocker project, alongside other major players, including Gnosis, Balancer and Paraswap.
MEV Blocker is a software designed to redistribute 90% of the profits from MEV capture back to users.
In April, 1inch integrated with a number of notable projects, including Deblock, a current account integrated with a non-custodial wallet; Chainstack, which connects developers with Web3 infrastructure, and DZap, a project offering solutions to simplify DeFi swaps.
Events
In April, 1inch took part in a series of events in Tokyo, including DAO Tokyo where Gleb Sychev, 1inch CMO, spoke at the panel "Protocol Management and Progressive Decentralization," ETHGlobal Tokyo, which featured a workshop by Nick Kozlov, 1inch backend lead, as part of a hackathon, and Web3.0 Tokyo Hangout.
The Tokyo edition of 1inch's legendary parties, Love.DeFi.Robots, came as a powerful conclusion to the week of crypto events in the Japanese capital.
Key stats
Ethereum: $265B in volume, 10.4M swaps, 1.9M users
BNB Chain: $34.8B in volume, 15.9M swaps, 3.1M users
Polygon: $19.4B in volume, 13.3M swaps, 1.5M users
Optimism: $2.7B in volume, 1M swaps, 229K users
Avalanche: $4.1B in volume, 997K swaps, 159.1K users
Fantom: $921M in volume, 763K swaps, 34.7K users
Arbitrum: $6.4B in volume, 2.7M swaps, 474.9K users
Gnosis: $226.6M in volume, 234.1K swaps, 24.2K users
1inch Fusion mode: $6.2B in volume, 595.2K swaps, 147.3K users
Stay tuned for more exciting news and announcements from the 1inch Network!
Copy done!