1inch integrates with Klaytn's Kaikas wallet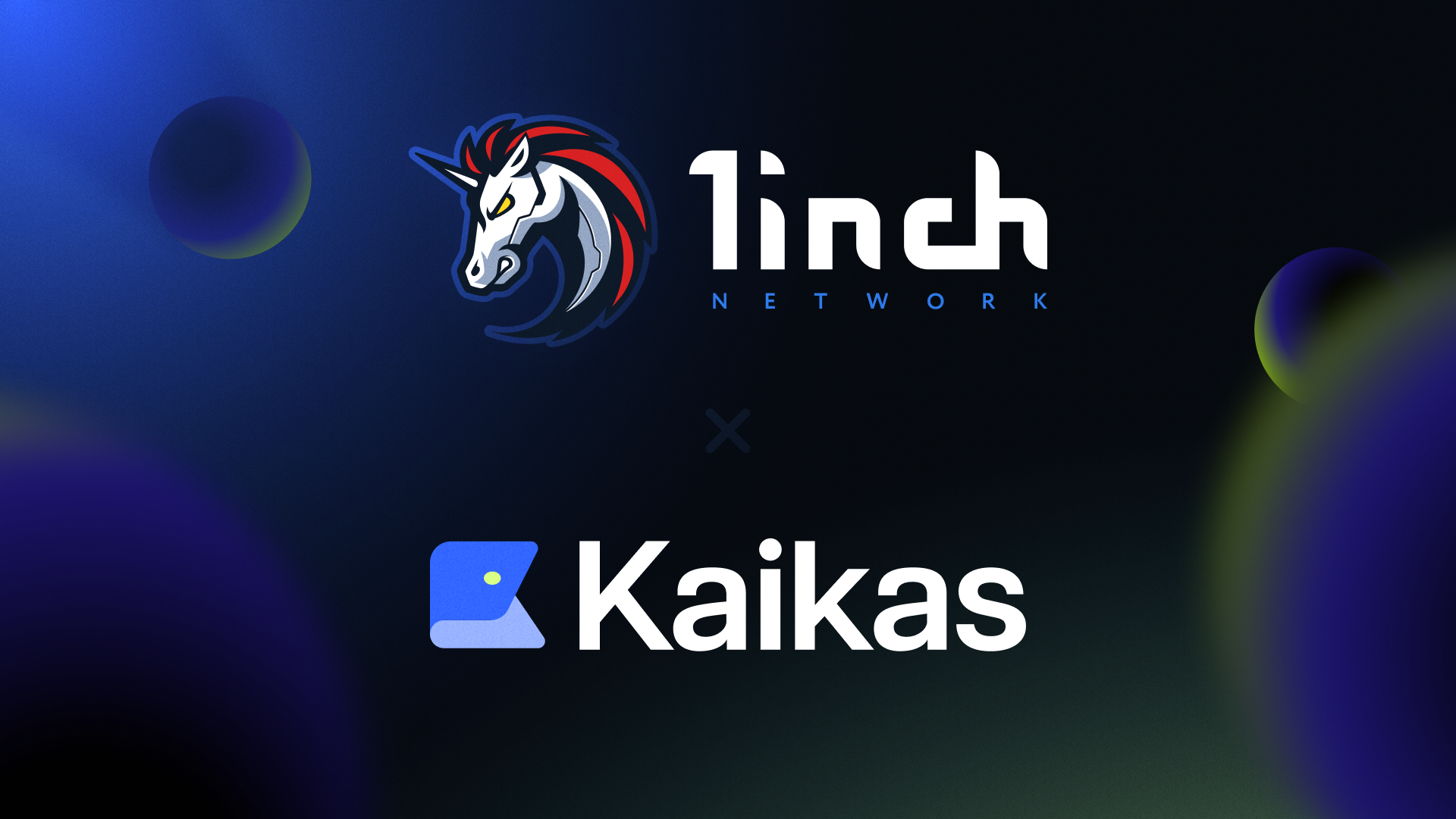 Under this partnership, the 1inch Swap API will power token swaps in Kaikas, a versatile wallet ensuring interaction with the Klaytn ecosystem.
In its commitment to deliver a seamless DeFi experience across the globe, the 1inch Network is thrilled to announce another exciting integration — with Kaikas, a non-custodial digital wallet from Klaytn, the leading Web3 ecosystem in South Korea.
Kaikas is one of the most popular wallets for managing and storing digital assets in South Korea and engaging users with Klaytn. Launched in June 2019 by the IT conglomerate Kakao, this public Level 1 blockchain now hosts significant numbers of transactions across over 300 dApps. With activities ranging from participating in the Bank of Korea's CBDC pilot to driving innovative Web3 projects, Klaytn Foundation actively contributes to blockchain's mass adoption. In their ongoing efforts, Klaytn continues implementing innovative solutions, such as integrating the 1inch API into the Kaikas wallet to enhance its usability.
"The integration of the 1inch Network's leading DEX aggregation capabilities within the Kaikas wallet will provide users with a seamless way to swap between tokens on the Klaytn network, allowing them to easily experience the entirety of Klaytn's vibrant ecosystem," said Dr. Sam Seo, Representative Director of Klaytn Foundation. "Improving the wallet's UX is key to mass adoption, and we're excited to be working with one of the best in the industry to advance this goal."
"We are excited to start powering swaps in the Kaikas wallet, further strengthening our partnership with Klaytn Foundation and addressing the increasing swapping demands of South Korean users," adds Sergej Kunz, co-founder of 1inch Network. "As more and more people recognize the vast potential of DeFi, we are striving to provide both elegant and user-friendly solutions."
With the 1inch Swap API, Kaikas wallet users will get the best swap rates and the most efficient swap routes. The 1inch Swap API is powered by Pathfinder, a discovery and routing algorithm which ensures gas cost optimization and top-tier atomic swap execution through multiple routes. As a result, when just choosing the 'Swap' option in a wallet, Kaikas users gain access to a powerful DeFi tool that elevates their trading experience.
To learn more about the 1inch Swap API and other SaaS solutions, visit the 1inch Developer Portal.
Stay tuned for more updates on 1inch integrations and collaborations!
Copy done!