1inch integrates Curve's sUSD pool with Synthetix staking
1inch users are set to benefit from the pool's high annual percentage rate (APR) and extra staking rewards from Synthetix.
We are constantly looking for new opportunities for our users to cash in, and here's a new one: 1inch has added native integration with Curve's sUSD exchange liquidity pool and Synthetix staking.
Users who provide liquidity to the Curve pool, collect an annual percentage rate (APR). In addition, they receive Curve Pool Tokens, which can be staked in the Synthetix staking pool to collect an extra reward in Synthetix Network Tokens (SNX) given away by that pool. Each week, Synthetix distributes 64,000 SNX (more info about the Synthetix pool operation is available here).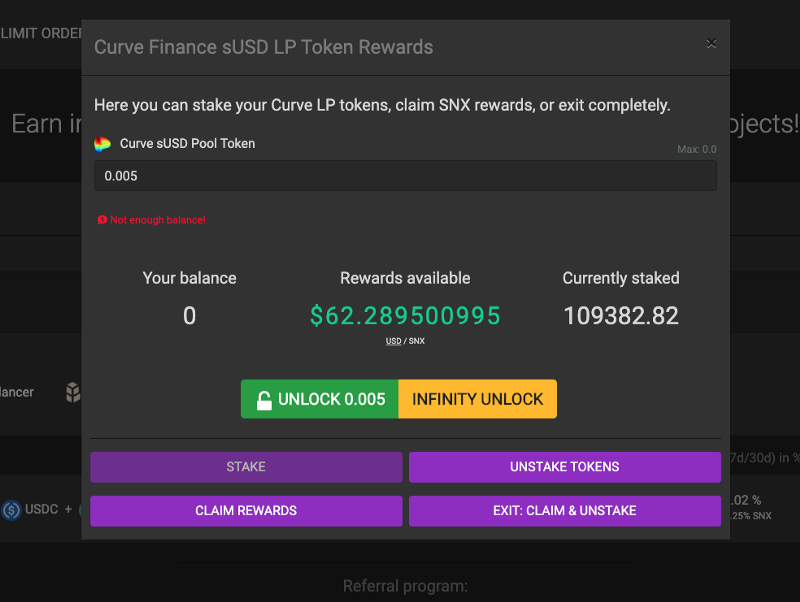 Curve is an Ethereum exchange liquidity pool that claims to offer "extremely efficient stablecoin trading, low risk and supplemental fee income for liquidity providers, without an opportunity cost." sUSD is a stablecoin on the Ethereum platform pegged to the US dollar. Currently, the total value of Curve's sUSD liquidity pool is $9.7M.
The Curve sUSD pool will be available on 1inch as a native tool, so users don't have to go first to Curve's website and then to that of Synthetix. All operations such as providing liquidity to Curve and staking sUSD on Synthetix can be done within 1inch.exchange unified user-friendly interface.
Synthetix is a decentralized synthetic asset issuance protocol built on Ethereum (see how Synthetix works).
"We are proud that Anton Bukov, co-founder of 1inch Network and independent white hacker, was the one who developed Synthetix staking pool," — comments Sergej Kunz, co-founder of 1inch Network. "And we believe that security and convenience of use to be of highest priority for both 1inch and Curve!"
Moreover, Curve smart contract is audited by Trail of Bits (report is available here), while Synthetix staking pool is audited by Sigma Prime (report is available here).
How it works:
Copy done!
Recent posts
Copy done!